Hi Budz… Me gettin straight to the point. This posts core is the Modification of the Look and Feel of XP. I confess that I cheated in this one and took help from the Digit Magazine, but heck, nobodyz perfect, right? These are the Customization variants of Microsoft Windows XP.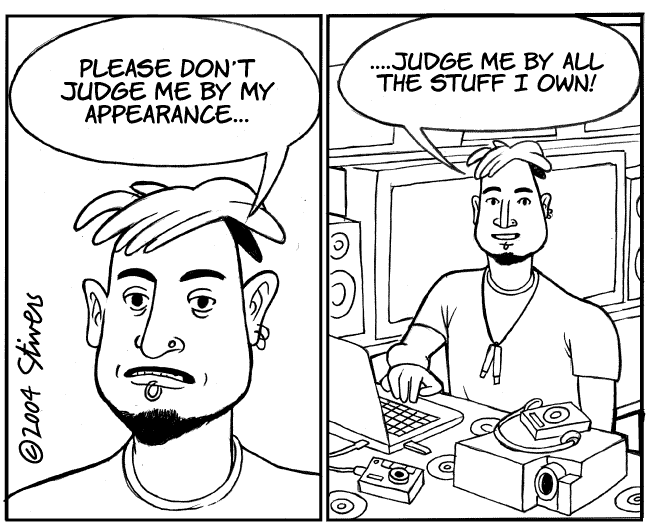 I've installed BumpTop, ZMatrix and Liquid Clock in my ststem….  Bumptop is a kind of show-off. ZMatrix too is of the same category. But Liquid Clock is fine. bbLean depends on how much patience you have. 360 Desktop looks tempting. Tweak UI is really good.
I'll let you get on with it then.  Commentz Plz.
| | | | |
| --- | --- | --- | --- |
| Name & Pic | Description | Size | Download |
| 360desktop | 360desktop transforms your standard Windows desktop into a 360-degree panoramic workspace, giving you many times more desktop space. 360desktop also lets users make desktop widgets from favorite pieces of the Web and create and share 360-degree interactive wallpaper. 360desktop makes your desktop a more functional place with a 360-degree panoramic view. Always have the latest news, dynamic information, video content, family photos or anything else you like at your fingertips. | 5.93 MB | Download |
| bbLean | bbLean is the lean version of Blackbox for Windows. It tries to keep balance between features and complexity, to give you some efficient means. | 404 KB | Download |
| BumpTop | BumpTop is a fun, intuitive, 3D desktop that keeps you organized and makes you more productive. It combines the look and feel of a real desk with the power of your PC. You can pile your files, flip through websites and toss your photos up to Twitter or Facebook quickly and easily, right from your desktop. Advanced search and sort capabilities make sure you can find your files when you need them. Personalize your desktop with custom themes, sticky notes and photo slideshows and turn your desktop into a useful, fun space instead of a graveyard of lost or forgotten files. An upgrade to Pro version will add such features as unlimited sticky notes and enhanced productivity and piling features. | 10.73 MB | Download |
| ClilckOff | ClickOff is a program, which does a daily and very annoying task for you: click buttons on useless notification and error-messages. It is very easy to use: If a message like "Are you sure you want to exit" shows up, you start the window-detection of clickoff and point on the button you want to be clicked if the message shows up again - "Yes" in this case. If an ad-popup shows up it can be directly added to the list via hotkey or tray menu. Parts of a window title can be replaced by wildcards so that one entry can close several windows with similar titles. You can also set the text of message as a condition whether a button should be clicked or not. ClickOff waits in the system-tray next to your clock until one of its target windows shows up and then clicks the desired button. A browser popup will just be closed. Before a button is clicked or a window is closed, ClickOff can wait for a certain time allowing the user to click a button before it is automatically clicked. | 473 KB | Download |
| Distant Suns ScreenSaver | Distant Suns - Grand Tour 3D Screensaver is a high-speed, full-motion, solar-system simulator using OpenGL technology and accelerated graphics. The positions and rotations of each of the planets and its moons are accurate to the current date and time (making the program a clock of sorts). As the day progresses, you can observe the great red spot of Jupiter as it wheels across the face of the giant planet. Watch the moons of Saturn in their daily dance around the majestic ringed world, and watch Earth rotate under your feet. The constantly changing scenes assure an infinite variety of interplanetary vistas. Grand Tour 3D now comes with Phobos and Deimos, the moons of Mars, and features the Mars Rover landing sites. | 12.04 MB | Download |
| Flyakite OSX2 | Transform the look of an ordinary Windows XP+ system to resemble the look of Mac OS X. The installer simply automates the process of replacing critical system files, setting registry tweaks, and installing extras such as cursors, sounds, and visual styles. | 25.83 MB | Download |
| Ghost-It | Ghost-It runs in the system tray, and lets you turn windows into ghost windows. A ghost window is translucent and will always appear on top of other windows. When a ghost window loses the input focus, it remains translucent and always on top, but all clicks will pass right through it like it wasn't even there--until it becomes the active window again, either by clicking on the window's taskbar icon, or by pressing a user-defined hot key. You can configure the translucency levels of both active and inactive ghost windows, along with the hot key used to activate a window. | 11 KB | Download |
| IcoFX | IcoFX is an award winning freeware icon editor. It is an all-in-one solution for icon creation, extraction and editing. It is designed to work with Windows XP and Windows Vista icons supporting transparency. With a wealth of tools and more than 40 effects at your fingertips, theres virtually no limit to the icons you can create. | 1.47 MB | Download |
| IconRestorer | IconRestorer has been designed to remember the icon setup to avoid the boring job of manual restoring for the right icons position on desktop after crashes, screen resolution change or other unwanted events. It can also be used to place the icons back to their original location on desktop when needed, or to manage more profiles of positions. The layout can be saved manually (every resolution will be saved separately) and can be restored at any time. The back up thumbnails preview may be useful to select wich back up to restore. Also available a list view mode for the desktop. | 2.46 MB | Download |
| JetToolBar | JetToolBar is a simple program that creates 14 default categories of shortcuts for applications and bookmarks of recommended Web sites. Position the toolbar on any edge of the screen, docked or floating. The size of buttons on the toolbar and the toolbar itself can be adjusted. | 1.81 MB | Download |
| Liquid Clock | Every second of our life is precious. They flow away with soft liquid river of time. The sixty seconds form a very precious minute. The sixty minutes form even more precious hour. The 24 hours form the invaluable day. Let's try to remember that preciousness and let our days be unique and very happy. Version 2.8 added vista support and improved face. | 1.25 MB | Download |
| LogonStudio | LogonStudio Vista is a free program that enables users to change the user logon screen to Windows Vista. Many logons are included with the program and hundreds of additional logons are available on WinCustomize.com for free. | 3.12 MB | Download |
| MobyDock | MobyDock is a fully customizable, freeware, launchbar/taskbar program that allows you to control your applications and folders while displaying some cool mouse-over animations. It can check your POP mail account; display thumbnails for the running applications; and display pop-up menus for your favorite media player, allowing you to control it from the dock itself. It also is a functional clock and Recycle Bin. Integrated Microsoft Messenger support, a weather checker, autofocus functionality, and several other features will help you explore, interact with, and keep under control your system in a fast and accessible way. | 3.48 MB | Download |
| ObjectDock | ObjectDock acts both as a task manager and a program launcher. Users can customize the look of each item on the dock and set various animation options for when the mouse rolls over an item on the dock. The program is very easy to configure. | 14.2 MB | Download |
| PixelToolbox | PixelToolbox is the complete solution for designing desktop graphics for the Windows operating system. Create, edit, and apply 1-bit patterns, wallpaper tiles, icons, and cursors - all from a single integrated environment. PixelToolbox offers the standard set of painting tools along with a few filters and features not found in other software. The unique interface, tools, and workflow were engineered to maximize your creative potential. | 3.58 MB | Download |
| RocketDock | RocketDock is a smoothly animated, alpha blended application launcher. It provides a nice clean interface to drop shortcuts on for easy access and organization. Now with added Taskbar support your minimized windows can appear as icons on the dock. This allows for better productivity and accessibility. | 6.16 MB | Download |
| Send To Toys | Send To Toys is an enhancement of the Send To system menu that includes features like Add to Send To menu and Remove from Send To menu to personalize the Send To system menu, Send To Clipboard (as name) to copy the name of the files to the clipboard, Send To Clipboard command line utility to copy the output of a command to the clipboard, Send To Command Prompt to open a DOS console window from the selection, Send To Default Mail Recipient, Send To Favorites to add shortcuts to the Favorites list, Send To Folder to send files to another folder, Send To Quick Launch to add a shortcut to the Quick Launch toolbar, Send To Recycle Bin to send files to the Recycle Bin, and Send To Run to send files to the Run command dialog. It also includes a Control Panel Applet to manage the Send To system menu content, and configure the various Send To Toys settings. | 738 KB | Download |
| SETI@home | SETI@home is a scientific experiment that harnesses the power of hundreds of thousands of Internet-connected computers in the search for extraterrestrial intelligence (SETI). You can participate by running this screensaver, which downloads and analyzes radio-telescope data. There's a small but captivating possibility that your computer will detect the faint murmur of a civilization beyond Earth. | 10.6 MB | Download |
| SideSlide | SideSlide is an advanced, portable, unobtrusive, dockable, skinnable, instantly accessible, highly configurable Desktop Extension on Steroids. Clean desktop clutter and make your computer friendlier and faster than ever before. With unique use of containers and various innovative features, SideSlide lets you get instant access to everything you have and much more. The program respects your system and keeps all of its configuration files in a single folder. Version 3.0.00b include unspecified updates. | 1.75 MB | Download |
| SmartBarXP | Offering everthing from newsfeeds to virtual desktop management, SmartBarXP runs down the side of your screen and can be configured to display interactive panels known as panes. These panes include media players, slide-show and image-viewing panes, a virtual desktop manager, and live news, weather, and stock feeds. The panes can be repositioned on the bar and scrolled if the bar becomes too full. The bar also can host extra sections, such as a Recycle Bin, Explorer shortcuts, and taskbar replacement sections (Start button, taskbar buttons, and system tray sections). | 4.34 MB | Download |
| Sneaky Virtual Desktop | Sneaky Virtual Desktop allows users to have up to 32 desktops on their machine at once. Sneaky provides quick "hotkey" access between each, and will perfectly camouflage almost any application. Whether you're at your office and you want to keep out boss and co-workers, or if you're at home and want to hide sensitive information, Sneaky will suit you perfectly. | 6.04 MB | Download |
| StartMenu Organiser | Over time, as more and more applications get installed, the Start Menu can get so cluttered that you end up spending a lot of time just trying to find that program you want to run. The Winstep Start Menu Organizer allows you to quickly group your Start Menu shortcuts into a specific set of categories (e.g. Utilities, Internet, Office) thus making finding what you are looking for a lot easier and much faster. | 2.2 MB | Download |
| Sticky Notes | The Sticky Notes application allows you to create electronic sticky notes directly on your Windows desktop. The Sticky Notes are just like paper post-it notes for your computer. Jot down tasks, messages, ideas, appointments, phone numbers, birthdays in a note and stick it on the desktop. A note can be positioned anywhere you wish, or hidden in your task bar, then searched and displayed later. Notes can be resized. The note's contents can be formatted to include fonts, colors, transparency and hyperlinks. Also notes have a click thru capability. Once on screen, notes will remain where placed until closed, even through reboots. Alarms can be added to a note to act as a reminder. Sticky Notes application is small and simple and all notes are kept in the text file. It does not use the registry. | 273 KB | Download |
| Tweak UI | The Windows shell-development team did some extra programming and put together a set of tools called Power Toys. If you're a power user, go ahead and try them out, but be forewarned that Power Toys aren't supported by Microsoft because they're not part of Windows. This group of "toys" lets you adjust your Windows user interface, including menu speed, window animation, and Microsoft Internet Explorer. Version 2.1 may include unspecified updates, enhancements, or bug fixes. | 146 KB | Download |
| VersaTimer | VersaTimer is a simple, yet very powerful, timer application with some unique features that makes it different from other timers. It can perform 'actions' with cyclic intervals, for example playing a custom sound every minute. Up to three different rules can be set up for each timer, which means three different actions can be performed, with three different cyclic intervals, depending on how far the timer has counted. It can also announce the time left with a sampled voice (in English). Up to 99 timer settings can be defined and saved, and with a few clicks you can select which timer setting to use (only one timer can be running though). The background and the LED display are customizable, you can select colors and make the background a gradient fill or use your own tiled bitmap. | 1.11 MB | Download |
| ZMatrix | ZMatrix is a desktop enhancement tool that creates the streaming character effect of 'The Matrix' on your desktop. The program will blend with an existing background or be drawn over the top of it. Also, the program does not impede normal desktop operations. The program now has multi-monitor support and a screensaver mode. Turn off Active Desktop before using this application. | 1.46 MB | Download |
| 3DNA | 3DNA is a 3D desktop enhancer that improves the way you work with Windows and the Web. You can choose from different 3D add-on worlds to explore and customize for an immersive and entertaining desktop. 3DNA works by overlaying the wallpaper area and easily lets you toggle between your 3D and 2D desktop with the click of your mouse. You can move around easily, or simply teleport to different areas when you want to launch applications, open folders, surf the Web, or play music. Personalize each 3D world by hanging your digital photos on the walls by simply dragging them onto the picture frames. | 21.09 MB | Download |
Comments and Corrections are welcome, as Always.
Shiva & Ajay Called, they seemed fine. Maddy too. Raju bhaiz situation unknown. Prasuz head is now a reflecting surface – says its a huge relief…hehe….(Have to try it myself sometime, but he warned me).
Adios……