Yup, I'm now down to watches. I've always had a fascination towards watches. I chose my watch based on my requirements. My CASIO watch (shown on the right) has a home screen display of time, date (full display), 5 Alarms with Text Message, Hourly Notification, Dual Time (for another time zone storage), Countdown Timer (max 23 Hours, 59 Minutes) with a repeat continuous feature, a Stopwatch with Split Facility and a Telephone Number Memory of 30 Numbers  with Names(I could have used that to my advantage in my B.Tech Internal Examinations, but I'm supposed to be a good guy, right? .. hehe…)
There are so many different and by 'different' I mean a lot more sub groups like – costly, concept, wierd, useful, geeky, techie, stylish, odd, imaginative, innovative, useless, heavy and so on. I managed to collect some stuff regarding some of the watches which fall in the above categories….  Have a look below and Enjoy…. Click on Read More for more details….
You can download the manual to any CASIO watch from here. For my manual, type "1600" on that page.
The O-Ring Watch By Phillippe Starck
Looking for functional, industrial design in a watch at a reasonable price? Starck-designed, Fossil O-Ring Watch definitely fits the bill with it's uber-funky o-ring face and simplistic detailing. All for a cool $110 - comes in white, black or smokin' grey.
Philippe Starck may have famously said "I believe in general that my job is absolutely useless" at the last TED Conference, but the designer-at-large is at it again: witness his new grommet-like watch for Fossil, which retails for $110. (core77)
Spherical Eris Watch by Pierre Junod
This spherical watch was designed and created by Pierre Junod and named after the recently discovered dwarf planet Eris. Being a uniquely spherical shape this innovative watch can be used either as a pocket watch or has a small desktop. I'm not quite sure how practical a ball shaped to watch in your pocket would be. However it would definitely be a good conversation starter.
Its case is constructed from anthracite anodized aluminum with laser engraved figures the white hour hand and orange second hand are behind a mineral glass centre.
Each watch is sold with a natural rubber strap to hang from your neck and have Swiss Quartz movement. The orange top pointer shows the minutes and the white lower pointer shows the hours. Available to purchase from  Watchismo for $450 (USD).
Vulcania Watch
This is the Vulcania watch and it looks awesome. Designed by Fabrice Gonet and manufactured by HD3 Complication, it's got just the look I want in a watch. Which is a look that makes it a hassle to read the time and with some timebomb styling thrown in for good measure.

Each aspect of the time is viewed in its own unique way. The hours has a Price is Right style rotating wheel and the minutes are viewed on a circular dial. A small window will also display the current date. Sapphire glass panels on the front and back and side port holes allow for all of the steampunk-y innards to be viewed.
The watch will be unveiled this April and there will only be 11 made. Meaning they'll be ungodly expensive. I'd tell you how much they cost, but it doesn't matter because I purchased them all already. And I'm going to destroy all of them except one. What good is a badass watch if you know there are 10 other assholes out there with the exact same one?
Hiranao Tsuboi Minimalist LED Watch is,
Sadly, Just a Concept
There's minimalism, and then there's this LED concept watch from Hiranao Tsuboi at design firm 100%. The LED lights forgo the need for a watch face by being interwoven with the links on the wristband. The look is sleek, and unlike many concept time pieces these days, I can actually tell the time.
SEIKO has just released the world's first watch to use flexible e-paper. The Spectrum SVRD001 features a stainless steel, bracelet design. It utlizes black and white flexible e-paper (Electrophoretic Display) to display the time. This watch weighs 134g and is 34mm thick. SEIKO has limited production to just 500 units and priced the watch at $2238 USD. Currently it is only available in Europe, a worldwide release has been planned for January 2006.
$220,000 Cabestan Watch
The Cabestan Watch is an interesting mechanical watch.  If it wasn't $220,000, I would consider one for myself. This unique design was created by two independents watchmakers "Jean-François Ruchonnet and Vianney Halter" who have combined their talents to create something truly innovative.
"The mechanical design of the Cabestan, including its tourbillon, is totally transversal. The indications (hour, minute, seconds, and power reserve) appear on the cylinders located at the four "corners" of the watch.

Starting from the lower left, we find the barrel, which transmits its driving power to the movement by the intermediary of a chain. This chain is connected to a second cylinder, at the upper left, made up of one part of a fusee (placed horizontally as opposed to the traditional fusees that are always vertical), and the other of the cylindrical power reserve indicator (a total of 72 hours).
Still on the upper end, but this time on the right, we find two cylinders next to each other, providing the perfectly readable hours and minutes. In the lower right hand corner, we can see the tourbillon, which is also placed vertically and is directly linked to another cylinder, which quite logically gives the seconds indication, as the tourbillon makes one rotation per minute."
Concept watch
Pierre Haulot and William Boullier have produced a watch concept where time is viewed as a 'progress bar'.
In their own words:
"The relationship between the consumer and his watch is really important. The consumer identifies himself with his watch. It needs to reflect his personality and his way of life. Life is a succession of short or long term goals.
"Elio Linea is a watch which shows you your position on a linear scale (like a computer downloading gauge). You can visualize your position in a predetermined period, with the time spent and the time remaining."
Luis Berumen's ZeroPointZero concept watch is made from a pair of handcuffs. I like it. Not sure if I could rock it to work, but it'd certainly come in handy sometimes. After all, there's nothing worse than losing track of time when you're cuffed to the bed and your significant other is beating you with a riding crop. Now I'm not totally sure how the time is displayed, but I think the one in the picture may be showing 10:10. Of course I could be wrong. I've been wrong before. Like the time I said "I do" in front of that priest. Huge mistake.
Gucci Concept Watch Has An Open and Shut Case
This LED concept watch, designed by Nuno Oliveira for Gucci, is a steel and glass bracelet which slides to reveal the display. We love the Blake's 7 sci-fi look, but that glass screen, supported by nothing at all, looks like it's ready to snap. That's what computer rendering is for, we guess: Slick and impractical beauty. Actually, isn't that what Gucci is for?
Sand Time Digital Watch- Sand timer sans sand!
"Like sands thru the hourglass..so are the days of our lives"
A line that was SOOO 80's.. but this watch definitely aint. A very funky digital watch with a display that resembles a sand timer- the seconds slowly pour thru the screen till a whole minute ticks past. Quirky.
Pretty Wi-Fi Timepieces
Now that everybody and their mother tends to use their cellphone to check the time, watches, more than ever are fahsion and design statements. Picking up on this trend, Seiko introduced a new women's bracelet watch at Baselworld (the world's largest watch expo) that eschews more traditional LCD crystal technology for a new technology: electronic ink (E-ink). WristDreams reports that the striking e-ink display on Seiko's watch wraps around nearly two-thirds of the bracelet, a feat that would be impossible using LCD. According to Seiko's press release, the watch has two modes: "efficiency", which features an easy-to-read, informative display, and "mystery", with the display shifting to a more imaginative style suitable for for dress-up and evenings out. The e-ink is ingeniously sandwiched beneath a sapphire crystal that wraps around the entire bracelet, lending a sense of continuity to the design.
E-ink's main technical advantages are low power-consumption (the watch only needs to be powered when the display changes), high contrast/brightness similar to ink on paper, It is the E-ink material's flexibility, however, which allows for such striking design.

E-ink was first seen in a watch back in 2005 when Seiko released their men's "Spectrum" concept watch. That design went on to win the top prize for electronic watches at the "Grand Prix d'Horlogerie de Genève" this past November. Seiko licenses their E-ink technology from e ink corporation. It is not yet known if the design will be put into production.
Infinity Watch
The Infinity Watch from Swatch, designed by Pierre Merlet, has a built-in mp3 player, videoplayer/recorder and a photo album all wrapped into a funky looking watch!  (GUSH)
Things don't get any more precise than Formula 1, and the concept F1/Carbon GMT watch is definitely a thing of beauty. Inspired by the world of F1, designer John Pszeniczny has decided to throw in a carbon fiber body, Swarovski crystals, rubber and metal into this timepiece that features 18 identical rubies while telling the time in all 18 cities on the 2008 F1 circuit. Other features include a built-in lap timer function and a stopwatch. I suppose if this was released, it will also be one of the fastest wallet emptiers in history, probably hitting $0 from $20,000 in the time you take to swipe your credit card.
m60m watch
This handless and faceless watch was created by designer roger kellenberger. instead of using hands to tell the time, the watch has a rotating inner ring. this ring shows the time based on its alignment to the stationary marks on the outer ring. because there is no face, the watch is completely see through.
odm pixel watch
Don't be fooled by appearances, this watch may look like a simple metal bracelet, but with the touch of a button its face lights up to reveal the time. the watch is able to appear and disappear thanks to a thin electro-luminescent panel which emits a bright glow.
The New Equalizer From Tokyoflash
The #1 unique watch retailer, Tokyoflash, is at it again. Unlike your standard time-piece the new Equalizer watch uses around seventy LED's to tell the time using either green or blue LED's. The LED's will light up once a minute to display the time, all that's involved is some simple calculations.
However, the makers of this unique watch don't seem to be too concerned with practical uses. In an era where cell phones and PDAs can easily be used as time pieces, the makers have focused upon design and aesthetics.
The makers are confident that this watch will revolutionize how some watches are made. The watch was in research and development for full year and re-engineered 9 times. The retail price of the watch is ¥17,800 which is around $150.
CABESTAN WATCH: A UNIQUE NEW LOOK AT TIME
It's no secret that we here are fans of finely made watches. The Cabestan design from Vianney Halter and Jean-François Ruchonnet is not yet being produced for sale, but makes us watch fans drool at its unique new look at watch design. The pictures you see are a rare few of the Cabestan that exist, with only a few prototypes existing in the whole world.

The beautiful rolling power displays are absolutely astounding. The displays are controlled through chain links and fusee wound by a winch. The mechanical design and architecture of the Cabestan is enough to make any watch fanatic weak in the knees. A truly beautiful device we hope to see in production someday.
HELIX
How about a watch that writes and looks good too? This new innovation ,the Helix, adds a twist to the pen watch concept. TheHelix is worn around ones wrist and when writing is required, you have a pen . This is quite useful for those people who are always digging around for a pen.
The watch has a fun young look which is a great accessory and quite practical too. The digital time is displayed in vibrant pink or blue.
TokyoFlash Infection Watch looks sick
…In a good way. Mostly. TokyoFlash continues to surprise us with unique watch designs. With their latest, the "Infection" watch, they apparently had sickness on their minds. I'm not sure if I like it or not. On one hand the design is cool, but I look at it and I feel like I need to be quarantined. It's like ill pop-art. The time is shown with 12 red, 11 yellow and four green LEDs, and you can choose have the display animated or just show the time. The curved watch is stainless-steel and water-resistant to 3ATM and sells for around $135.
DIESEL DZ9044
The Diesel DZ9044 is the perfect watch for the secretive. You must be wondering how
the time is displayed. Is there tiny miniature fires that light up on the hour warming ones wrist? Does the watch emit beeping sounds? Do the hands suddenly appear suspended above the dial? No, none of these things which ,if I say so myself, are quite intriguing concepts. Before I divulge the secret of this watch, I will tell you some of the watches extraordinary capabilities. The watch displays four different time zones at once.
Yes! The four time zones are displayed on the sides of the watch case leaving the front of the watch blank creating a fresh new look
Tokyoflash releases some Fire
Here's the latest from Tokyoflash, who aims to start a fire on your wrist. This one is designed vertically with Yellow LEDs that will tell you the hours, red LEDs indicate groups of 10 minutes and the green LEDs indicate single minutes. As always, hard to read for some, but very stylish and futuristic. It features an adjustable strap and they claim that it's so comfortable you barely know it's on your wrist. You can get yours for a limited time only launch price of about $130.
Rogue watch from Tokyoflash
Here's Tokyoflash's newest hard to read and futuristic timepiece for those who love these hard-to-read-watches. With the LCD interface, the time can be read at a glance but it can also be illuminated with sci-fi green LEDs, so that when you touch the button, it resembles a glowing radar screen. It sports a solid stainless steel strap which can be adjusted.
So how do you read this one? The outer ring dots are the minutes, every fifth dot being slightly smaller to distinguish five minutes. The ring of large blocks represents rough minutes, the position of the gap indicating approximate minutes. The inner ring of blocks represents hours, the position of the gap in the ring showing the current hour as on a clock face. It will set you back $154.
Tokyoflash's negative watch accentuates the positive
Despite the name Tokyoflash's Negative watch is amazing as usual and for once it's a breeze to read the time. The watch features a reverse LCD display which lets you view the time without pressing any buttons. The Negative watch gets its name from its "always-on" inverse LCD display which uses oversize black dot-matrix pixels to reveal the time, day or date.
Another feature is a multi-color LED backlight, which lets you sort between one of seven different colors. If you wanted to, you could have a new color every day. In "frenzy" mode the display will put on a little rave party with a colored light show. If that isn't enough for you, you can choose from horizontal or vertical display orientations, and youll also get a built-in alarm. Comes in polished silver and polished black stainless steel and retails for about $162.
Tokyoflash Kisai Keisan LED watch is a beauty
The creative folks over at Tokyoflash just revealed their latest digital watch and it's pretty sexy if we do say so ourselves. The new Kisai Keisan watch uses a unique convex lens that magnifies the lighting effect from the LEDs behind the numbers in the watch face.
If you're familiar with Tokyoflash watches, and I know you are, since you read the 'Brick, you'll know that reading the time will take some getting used to. To tell the time on this watch, just add the digits in each of the four vertical lines of numbers. The Keisan features an aluminum body and comes in silver (with orange or yellow leds), or black (with red or green LEDs).
It will cost you $255, but you'll look awesome and futuristic.
Kisai Tenmetsu Tokyoflash watch
Tenmetsu is the latest addition to the brand new line of Kisai timepieces from Japanese watch importer Tokyoflash. The idea behind this one is that with three LEDs positioned beneath each lens, you'll get a transition between LED colors, creating an unusual look. And it does. As usual Tokyoflash comes up with a unique design.
This one is nice and light weight because it's made from aluminum. You can get one in either silver or black. So how do you read the time on this one? The time and date are shown in sequence by color. Red LEDs indicate 15 units, amber LEDs indicate 5 units and green LEDs indicate 1 unit, a combination of which present hours, minutes, months and date. Still confused? Me too.
The Kisai Tenmetsu watch is available from the Tokyoflash website for $257.
Tokyoflash launches the Ni
Tokyoflash, those wild and crazy watch makers just never take a breather. Which is great for us, because if it wasn't for Tokyoflash, watches would be boring. They're back, having never left, with their latest wristwatch known as the Ni.
This design is at once stylish and minimal. The Ni is made entirely from stainless steel and features a polished finish, with horizontal grooves on the face and strap that give it a great look. The time progresses in one direction. Touch the upper button for an animation before the time is displayed. Each LED on the bottom line indicates two hours, the line above indicates a single hour, a combination presenting the current hour. Groups of 10 minutes are presented on the center row and single minutes on the upper two lines.
The Tokyoflash Ni will cost you $144 should you choose to put it in my Christmas
Denis Guidone's Ora Unica 'One Hour' Designer Wrist Watch [Time Telling Via Dynamic Doodle]
Whilst there are many innovative takes on wrist watch design, more than a few of which we've featured here on EP (see our highly selective Wrist Watches category for examples) this Ora Unica – meaning 'one hour' – wrist watch concept from Denis Guidone offers a beautifully playful take on analogue based time telling that is at once both striking and beautifully unassuming.
Taking the form of two circular dials that turn to indicate the hour and minute, onto which a single line, very much taking the form of some kind of doodle (scribble seems too harsh a term, and not at all fitting) is drawn. The result is a dynamic, constantly evolving drawing – termed somewhat poetically as a 'graphical gesture' by the designer - that serves to convey the time in what is a wonderfully casual take on traditional time telling.
Interestingly, we have noted that a couple of other sites who have just featured the Ora Unica appear to be rather confused as to quite how the watch actually conveys the time but, unless we have completely the wrong end of the stick, it seems obvious to us that both ends of the doodle serve as the indicators of both hour and minute.
The Ora Unica is at the conceptual stage at the time of writing, so, alas, you cannot avail yourself of one of these watches at the time of writing, however, it's realisation ought not to prove especially taxing or tedious to manufacture so we would hope to see this commercially available soon – not least because we suspect that we're not the only ones to be struck by its appeal.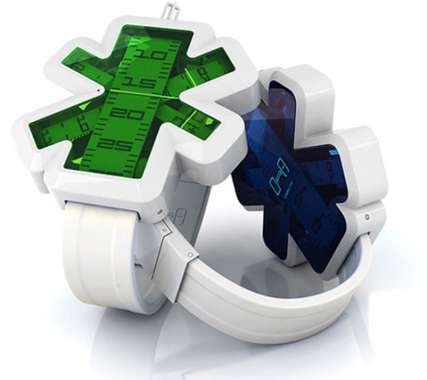 Cool Ora Watch
The Ora watch surpasses all watches on innovative designing, intricacy and finesse in haute horology. The sight of this watch is such a novel experience that you won't be able to inhibit the mesmerization it causes subtly. There is nothing very flashy about Ora. It has three tapes running in three different directions to keep the time, which at first may appear discrete, but are, in fact, one unit cohered together by time. All its appeal lies in the unprecedented design concept by Alexandros Stasinopoulos and the ease and elegance with which it embraces within itself such a marvel of complicate craftsmanship. The uppermost tape measures time in minutes, overlapping two smaller tapes that display hours and the current day of the week, respectively.
WITness
This watch is supposed to represent the eye where the inner circle is the hours and outer the minutes. The eye of man is the first hand WITness to the passage of time and a watch merely is the second hand display. This timepiece serves to fuse the concepts and have the eye display the time. By pressing the side buttons for 2 seconds the watch will be powered up and the time will be displayed after that it will automatically return to a stand by mode thereby saving 35% of its LED power and thus conserving energy. The bracelet is quite flexible with a secure locking system.
ENDLESSTIME
Endless Time has come up with a cool watch design. To me the watch looks like a twisted hospital bracelet, but it does have some pretty innovative features. The watch is comprised of semi-transparent plastic which can lay flat when taken off the wrist. Magnets concealed in the band allow the watch to fit comfortably around the wrist. The twist in the middle represents an hourglass which is an ancient technique of time display. In addition the twist divides the hour and the minutes. I can imagine the wearer searching the watch for some type of battery cover, but this is the great thing about this watch. There is no battery. No knobs. No buttons. No need to reset the time or change the batteries. The watch receives satellite signals and displays the current time according to the relevant time zone. The watch is powered by the kinetic energy as a result of the movement of ones arm. This watch will make a great gift.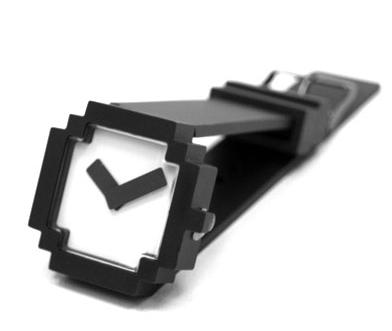 8-bit Icon Watch
You can always be sure that, the moment we come across a wrist watch that offers particularly innovative design, we'll feature it here on TFTS, and few wrist watches come quite as distinctive as this Icon Wrist Watch that pays homage to the blocky 8-bit graphics from classic retro console games such as Space Invaders and the original Mario series.
Manufactured from ABS, the Icon Watch offers a watch face devoid of numbers which would have otherwise undoubtedly ruined the overall effect and, in keeping with its deliciously retro appearance, you can forget about additional features such as date display and stopwatch functionality as this watch merely tells the time – pure and simple (and we wouldn't want it any other way).
There were many many more……. Just google'em…. :)
Enjoy…..
Liked the post? Wanna Subscribe and get updates to your email??
Click on Subscribe by eMail